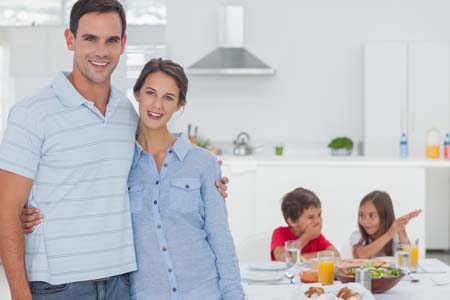 Your local dentist can show you how to save your tooth from becoming infected, and if it does, how to prevent it from needing to be pulled. It starts with a good oral health routine. We invite you to schedule a dental exam and teeth cleaning with our office twice a year. This way we can examine your teeth and gums, removing any plaque or tartar that has been left while brushing and flossing at home. This is essential to preventing both cavities and gum disease.
When caught early, cavities and infections can be treated by a dentist before they spread and create severe discomfort. If, however, you go too long in between dental appointments, your teeth may start to deteriorate as an infection spreads. When this happens, people often need a root canal. Whenever an infection spreads into the dental pulp of a tooth, it will cause intense discomfort and irritation. In addition to making life uncomfortable, the infection can spread into the jawbone if left untreated. This is particularly dangerous, as an infected jawbone can cause issues with all of the surrounding teeth in addition to discomfort.
Fortunately, if you are looking for how to save your tooth – a root canal procedure is an effective way to do so. We can create a small hole in the tooth, remove the infected area, and seal it back up so that the tooth can remain in the mouth. In order to further protect it, we can place a dental crown around the tooth so that you can bite down with force and use the tooth like you naturally would. Patients have this procedure completed on a regular basis and with much success.
If your teeth are otherwise healthy but have been damaged in an accident, we can save them too. When looking for how to save your tooth after a car wreck or sports injury, it is important to visit our dentist office right away. We can take teeth that have been cracked, chipped, or otherwise damaged and restore them to their natural state. This is done using a variety of cosmetic dentistry techniques, and since each tooth is unique, we recommend calling to discuss which option is right for you. One of the solutions we may use is a dental crown. Similar to how a crown can protect a tooth after a root canal, it can protect and save a cracked tooth as well. We can create the crown using a tooth-colored material for a natural appearance, and since a crown is a cap, the damaged tooth underneath will be entirely surrounded and protected so that nothing can touch it directly. When the damage is less severe, we can use a dental veneer to restore the tooth. If interested in learning how to save your tooth after a small chip, this is an ideal solution because it is a thin shell that simply rests on top of your natural tooth, requiring less preparation than a dental crown.
All of the solutions we offer can be natural looking and effective so whether your tooth is infected or damaged, call your local dentist to schedule your appointment today.
---
Related Posts
June 2, 2018
Regardless of what you do not like about your smile, we can fix it. Whether you have teeth that are severely stained, are discolored from years of smoking or drinking coffee, gaps between your teeth, …
---