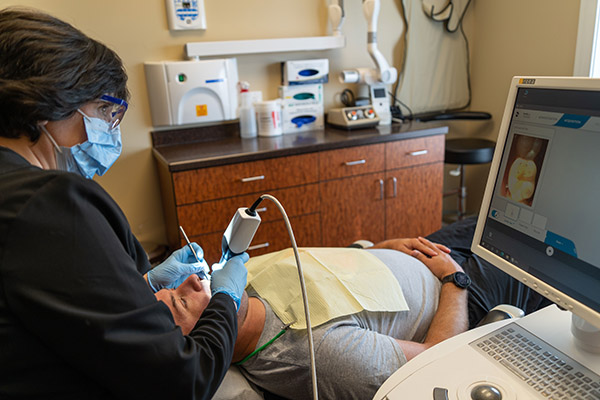 If you are getting married, consider scheduling an appointment for CEREC dentistry in Hamilton. Most brides dream of their wedding and want to look absolutely stunning on their special day. This may involve months of exercise, getting hair done and buying the perfect dress but what about your smile? In wedding photos, your smile will be front and center, so it is important to take the time to ensure that your teeth are healthy, and your smile glowing.
First, consider scheduling a teeth cleaning if it has been a while since the last one. When the teeth and gums are unhealthy, they will instantly look unattractive. Infected teeth will also emit a bad order, leading to foul breath on your wedding and every day of the year. During your teeth cleaning, we will let you know if you have any cavities or infections that require treatment and schedule it before your wedding day.
If you have any cosmetic issues that we can address, consider CEREC dentistry in Hamilton as the solution. For example, if you have gaps between your teeth, CEREC veneers are a solution. Cerec Veneers can alter the size, shape, and color of teeth to provide people with a perfect and bright smile. While braces can straighten teeth, they will take longer than some people prefer. For someone who is going to get married soon, braces are not something he or she will want in the photos. Dental veneers, on the other hand, can close gaps between your teeth in an efficient manner with strong results. Veneers can also make a tooth appear straight, cover dark stains and restore damaged teeth. All of this can be done in an efficient and safe method that looks completely natural and beautiful.
Most dentists can provide you with dental veneers in order to transform the appearance of your smile to a Hollywood-style perfection. However, most dentists will have to complete this process in two or several appointments. As a bride preparing for her special day, you have a lot of planning and entertaining to do so repeatedly visiting the dentist, may be inconvenient at best.
With CEREC dentistry, we can provide dental veneers in just one visit. With dental veneers, it is important to note that we will grind down a portion of the natural tooth to make room for the veneer. While we provide a safe procedure, after we grind down a portion of the tooth and place the veneer, it will be permanent. Many patients are happy with the results and enjoy their new perfect smile.
CEREC dentistry in Hamilton operates completely differently while still achieving the same goal. You only need to come in for one appointment. Instead of taking an impression of your teeth using molding material, we take digital images of your teeth and upload them to CAD software. The software will create the dimensions and shape of your veneer and then send those specifications to our printer. While we prepare your teeth and go over any other questions you have, your new veneers will literally be "printed." We will then bond the veneer to your teeth before you leave. This gives you the smile you want without the need to waste time at the dentist.
---
Related Posts
November 15, 2016
If you need to have a tooth restored, consider CEREC dentistry. This is the best way to restore a damaged tooth because the process is faster than it would be with a traditional dental crown. …
---